Hello everyone and welcome to my blog. I have recently made some changes, for the better, on my blog. I have bought a website address, I have changed the layout, I have even updated my
Pinterest
along with my
Twitter
account. Both of which I am really not sure how to use but get on there and play with them anyway. Oh yeah and that other thingy that has the camera logo you know the one
Instagram
. Now these things are not foreign to me in regards to knowing they are out there but they are foreign to me in how to use them.
Be patient I know you all were there once like me clueless and in the dark stumbling around on how to use them. Some people just catch on quicker.
Today I am coming to you with Writing Everyday In September blog link up that I found from
Kristen @ The Miscellaneous Mom
who actually found it over at
Whitney @ the observant turtle
and I thought what the heck. The only rules to this is that you have to write everyday (weekdays) that is and visit other bloggers and leave comments. For some of you this is just a fun exercise if your blogs are doing well, but for others it is a stepping stone to get the blog to more readers. So head on over to the two blogs above and link up. I am going to include their button here so you can also just click on it and link up that way as well.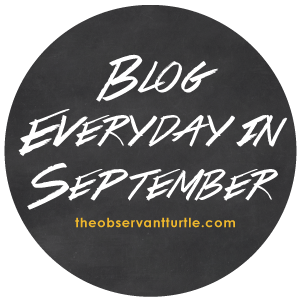 So today is about reintroducing yourself to the blogging world along with what I hope to get out of blogging for everyday in September. You know, tell you something about me that you may or may not already now.
- My name is Trina O'Neil and this is my blog. It started out as just a way to get my sister-in-law
Kisha
off my back about doing a blog. Ok truth is I wanted to do it but didn't think anyone would read it.
- What I am hoping to get out of blogging everyday in September is to get to know more people, find different things to try, share stories, give advise, make someone laugh, and to let others know they are not alone in their struggles.
- I had the first grandchild which that year turned into a total of 3 grandchildren for my mom. I started it and my two brothers had their kids the same year. Then the next year it was reversed, my oldest had his second, then me, then my younger but older brother had his second.
- I have 4 Children,
Heather
Forever 19, Victoria 24, Chris 22, Brandon 20. I also have 3 Grandchildren KayLee 9, Aadyn 7, Christian 6 weeks old.
- I am the youngest of 3 children and the only girl on my mothers side but next to the youngest and 2nd girl on my dads side. In all I have/had a total of 8 siblings.
- I buried my mother and my oldest daughter Heather in 2008 in less than 6 months of each other. Mom was cremated so I put her ashes in with Heather so they are forever together.
- I have been married 5 times. Ok don't judge, there is more to the story then there is room to write on this blog about those but maybe one day I will break it all down.
trust me I could write a book on this alone
- I work fulltime and sell
Avon
full time. I have worked since the day I turned 16 full time and now Sell Avon Fulltime as well. I love working and doing Avon because it gives me a chance to interact with alot of different people.
- I have a team of 16 people on my Avon team and we sell over $2000 every 2 weeks.
- I have a bachelors degree in Management but can't get a management position because I don't have experience but can't get experience because no one will hire me to get the experience....catch 22 on this one.
- I have been semi blogging since December 2012 which like I said came from the idea of my sister-in-law
Kisha
at a Christmas get together.
- I love photography and getting out to see nature at its finest. However, I have to sadly admit that I haven't picked up my camera in awhile. Life has gotten in the way lately. I think this is the last time I used my camera which was in Cocoa Beach a Year ago.
Man do I miss the beach.
- I am terrified of spiders or any bug with more then 4 legs.
- I freak out if I know I have to fly over water to get somewhere, not because I can't swim but because I almost drowned 3 different times due to people around me being crazy.
- I have a completely chaotic office at home and a completely organized and stress free office at work.
***hmmmm now to get home office straight***
- I am a very shy person in person and have a hard time approaching people. However, if I was behind a table I could talk to people all day long.
- I love to learn, rather from books, the internet or people I love to learn.
- I love printables, paper, pens, etc. Maybe that is why my office is so chaotic at home. I need to rethink my collection of printables....lol.
So that is me in a nutshell. I honestly am an Open Book. I don't have a thing to hide because I feel that my past has lead me to be the person I am today which is a strong willed, hard working, honest, caring and helpful woman.
Please leave a comment and let me know you were here. I am always happy to meet fellow bloggers and I would love it if you followed me.