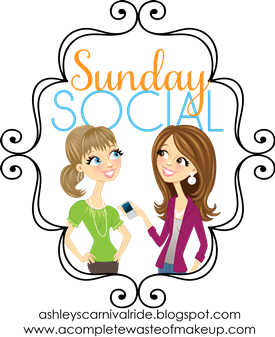 This is my first Sunday Social so here it goes.
This Weeks Questions:
1. Do you plan to change any of your eating habits in the new year?
I plan on changing alot of my eating habits. I have sturggled with loosing weight for some time and this is the year it is going to come off.
2. Any workout tips to get us back in shape after the Holidays?
Walking and drinking alot of water. Believe it or not ice cold water burns calories because your body has to work harder to heat it up. Plus it helps to hydrate your skin and wash out toxins.
3. Favorite thing you did over the Holidays?
I got to go to North Carolina and spend Christmas with my my son, my brother, Sister-in-law Kisha aka The Glamorous Life of a French Housewife and her family aka Life According to Lenetta.
4. What is something you hope that you accomplish in 2013 that you did not in 2012?
>
Loose about 30 lbs, get the garage organized and excel in Avon Sales.
5. Name 3 things happening this year you are excited about and why:
A) Buy a new vehicle. My husband is 6'2 and he says my car is made for fun-size people.
B) Buy our first rental property so that we will have renewable income throughout the year.
C) Getting out and taking alot of photographs of out of the way places.