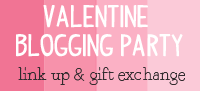 Ok I came across this great idea over at From My Grey Desk and thought this was a really cool thing to do. It is being hosted by 5 host: Cassie, Nicole,Lauren, Alycia, and last but not least Ashlee. So head over to their site and check it out.
Basically here it is in a nutshell. You send an email to Nicole and give her your blog name and email and then she will pair you up with another blogger. Then it is up to you to communicate and get to know the other blogger. You each exchange gifts with a cap of $10-$15 that you think the other person would like and you ship it to them for them to do a blog on. This is the first time that I am doing something like this and I think it is a great idea. My sister-in-law Kisha has done this plenty of times and she really seems to enjoy it. It is really interesting to see what other people send people that they only talk to on blogs.
Given I just lost my job I think this will be a really awesome way for me to really be able to get out there in the blogging community and meet some new friends. Hey I might even meet some new friends in my area and actually get to know them outside of the blogging world. I always tell my husband that we are pathetic because all we do is go to work and come home. The only people we are ever around are those at church and his family because my family is spread out and my brother that does live close, he and his wife are always working like we are. Although we have talked about maybe getting into a bowling league or something so we can meet new people. I know that might sound a bit strange but we are homebodies after all. I have spent the last 23 yrs being mommie and everything revolving around my kids that I never made time for me or making friends really. Not to mention that both me and my hubby are both smokers so it is hard to find people to hang with that are smokers.
Go go check out the Ladies pages and meet some new people and have fun. I am really interested in seeing what everyone gets so don't forget to follow my blog and all those that I have mentioned. Just click on their names to get to their pages.